Museum Collections, Academic Teaching, and the Making of Geology in the Nineteenth-Century University
Susan Newell (University of Leeds in partnership with the Oxford University Museum of Natural History and the Ashmolean Museum)
Supervised by Dr Jon Topham (Leeds), Ms. Eliza Howlett (Head of Earth Collections, Oxford University Museum of Natural History) and Dr Jim Harris (Ashmolean Museum)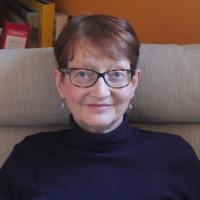 Susan worked as a curator and decorative arts specialist in museums and auction houses before studying for an MA (History of Design) at the Royal College of Art/Victoria and Albert Museum.  Her interest in the history of geology during the nineteenth century developed after working as a curator in the Ceramics and Glass Department of the Victoria and Albert Museum, where she became aware of a large and varied group of ceramics simply catalogued with the provenance 'Jermyn Street Museum'.  This was the common name for the Museum of Practical Geology, the London home of the new Geological Survey, and Susan went on to research its ceramics collection (viewed as 'applied geology'), for her MA dissertation.  During her studies Susan maintains broad interests in the arts and science history.  She is Chairman of The Glass Society, an organisation dedicated to the research, collecting and enjoyment of glass from all periods.
Susan's doctoral project focuses on the materials used in the teaching of geology in the early nineteenth century.  Her main resource will be the archive relating to charismatic and eccentric figure of the first Reader of Geology at Oxford, William Buckland (1784-1856). Geology was not a subject officially recognised by the University during the first half of the century and Buckland worked hard to transmit his passion for the subject to his students, and to consolidate his position.  He did this by assembling a collection which functioned as an essential part of his teaching and at the same time underpinned his research, publications and the theoretical development of the new discipline.  Susan will examine how and from whom Buckland amassed the many geological specimens,  diagrams and topographical views he used, as well as the casts, prints or models he acquired when original specimens were unavailable or impractical.  He enrolled his wife, Mary Buckland (née Morland), a noted collector and illustrator in her own right, in this project and a number of Mary's geological views, complete with rivets for suspension in the classroom, survive together with her inscriptions and mounts on specimens.
Susan hopes to compare Buckland's efforts to establish the teaching of geology at Oxford with those at other important centres such as Edinburgh, Cambridge and the Geological Survey in London. A cross-disciplinary approach will characterise her project which straddles the history of science, collecting, museums, as well as the history of teaching, art and social history.