The Nature of Replication: Re-contextualizing Natural History Models and Casts from 19th to early 20th century Britain and beyond
Elaine Charwat (University College London) in partnership with the Oxford University Museum of Natural History (OUMNH)
Supervised by Dr Alice Stevenson (UCL) and Mark Carnall (OUMNH)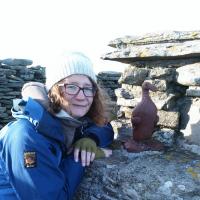 Elaine's background is in Special Collections, with emphasis on a natural history context. She was awarded an AHRC scholarship to undertake her MSc in Information Studies at (now) Leeds Beckett University, which she completed with distinction in 2006. Her thesis focussed on cataloguing the visual aspects of medieval manuscripts, and she won the B Oliph Smith prize for best final year student. She worked as Special Collections Librarian at University College Cork (Ireland) for two years, and subsequently gained her chartership as an Information Professional (from CILIP), having joined the Linnean Society of London as Deputy Librarian and Collections Manager - working with some of the most important natural history collections in the history of science. Her contributions to collections management, research, fundraising and outreach were recognised by her election as a Fellow of the Linnean Society (FLS) in 2016.
Elaine's doctoral project will look at how models and casts in natural history and the natural sciences are highly contextual "knowledge objects" - carriers and catalysts of knowledge. Being often perceived as purely utilitarian objects of mechanical and mass reproduction, they pose important questions about authenticity, objectivity and the objectification of nature. Another key research question of the project is how practices of collecting, display and teaching, as well as the objects themselves, reflect identities, relationships and status on different levels - individual, institutional, national and colonial.
To answer these questions, the main focus will be on rediscovering and recording the models and casts at the Oxford University Museum of Natural History, and on (re-)establishing their contexts, especially by comparing them with their counterparts in university collections in Germany (where many of the models were produced). The comparison will reveal how knowledge was produced and circulated through these objects in the 19th century to the early 20th century, which is their peak of production.
Combining these approaches will re-contextualize natural history models and casts as "keystone objects" of natural history museums, close a gap in academic and professional discourse, and inform current curatorial practice.